Car Insurance In
Arizona
With road safety and Arizona weather to consider, we're proud to say that at Fred Loya Insurance, we offer customized insurance policies at affordable rates, to make sure you get the coverage you need.
We'll share all you need to know about car insurance in Arizona, including driving laws, minimum insurance requirements, FAQ's and more.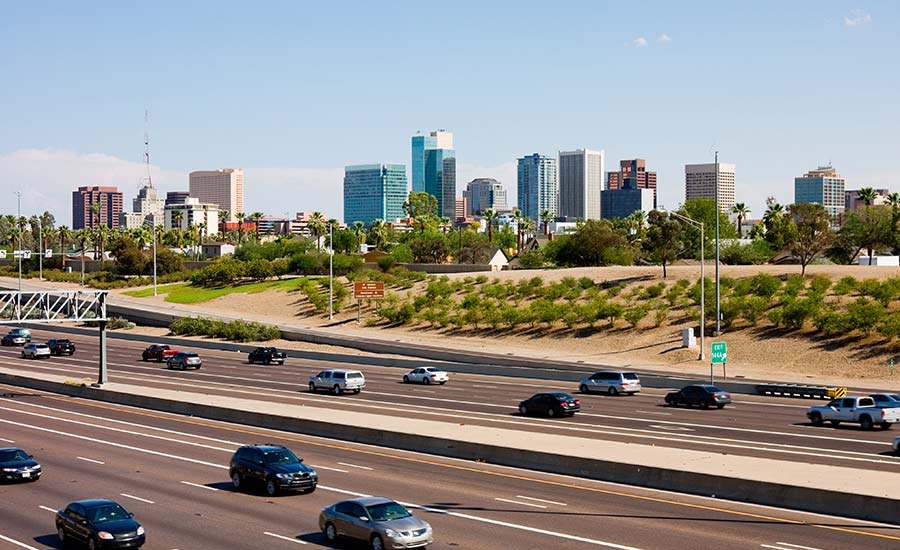 How Much

Does Car Insurance In Arizona Cost?

Looking for cheap car insurance in Arizona? The average cost of minimum coverage car insurance in Arizona is $555, while the average cost of full coverage is $1,547 per year.

Age, city, driving history and credit score are among the factors that can affect your car insurance rates. At Fred Loya, we work with you to find the best affordable coverage option for your needs.
The Best Affordable Car Insurance in Arizona
Looking for affordable car insurance in Arizona? At Fred Loya Insurance, we've got you covered. We offer competitive car insurance rates and customized plans based on the needs of our highly valued Arizona clients.
Our offices are conveniently located in Walmart Stores & Shopping Centers throughout the state, where our agents are ready to help you find affordable, customized coverage!
Why Choose Fred Loya Insurance For Your Auto Insurance In Arizona?
In addition to being one of the most affordable car insurance companies in Arizona, we offer numerous discounts and benefits for both new and existing customers.
If you are a new client, you will benefit from flexible payment options, immediate coverage without a credit check and better conditions if you are a high-risk driver, in comparison to other companies.
If you are an existing client, you already benefit from our lower increase in prices after an accident, mobile alerts, online payment options and the possibility to rent a car when yours is being repaired after an incident.
Auto
Discounts

In Arizona Through Fred Loya Insurance

Our discounts allow us to offer some of the cheapest car insurance rates in Arizona, while providing you with the coverage you need.
Prior Insurance Discount

If your car has been insured for 6 months or more, you may be eligible to save with our Prior Insurance Discount.

Homeowner Discount

Are you a home owner? Take advantage of our Homeowner Discount!

Multi-car Discount

Insure more than one vehicle with us, and save money with our Multi-car Discount.

Transfer Discount

Just now joining the Fred Loya family? If you transfer your policy, you can save with our Transfer Discount.

Preferred Payment Discount

Pay the full amount for your car insurance upfront or select an automatic payment option to save with our Preferred Payment Discount.

Claim-Free Discount

We reward our safe drivers! If your record is claim-free, you may benefit from our Claim-Free discount.

EFT Discount

Set up automatic monthly payments for your car insurance and benefit from our Electronic Funds Transfer Discount.

Renewal Discount

Think ahead and renew your policy a month before it expires to save with our Renewal Discount!

Family Discount

If your insurance policy includes other people from your household, you can save money with our Family Discount.

Vehicle Alarm Discount

Do you have a state-approved anti-theft alarm system in your car? If so, you may be eligible for our Vehicle Alarm Discount.

New Car Discount

Did you recently purchase a new car? We offer a New Car Discount to help you celebrate!

Anti-Lock Brakes Discount

An anti-lock braking system can help increase your safety on the road. If your car includes this feature, you can save with our Anti-Lock Brakes Discount!

Air Bag Discount

We want you to be as safe as possible in your vehicle. If your car has air bags, you can benefit from lower rates with our Air Bag Discount.
Arizona Minimum Car Insurance
Requirements
| Coverage | Requirements |
| --- | --- |
| Bodily Injury Liability | Bodily Injury Liability covers financial expenses if you are found at fault in an accident. The minimum requirements are $25,000 per person and $50,000 per accident. |
| Property Damage Liability | Property Damage Liability covers damages you may cause to another vehicle or structure if you are found at fault in an accident. The minimum requirement is $15,000. |
Fred Loya Locations in
Arizona
Arizona Car Insurance
Laws And Regulations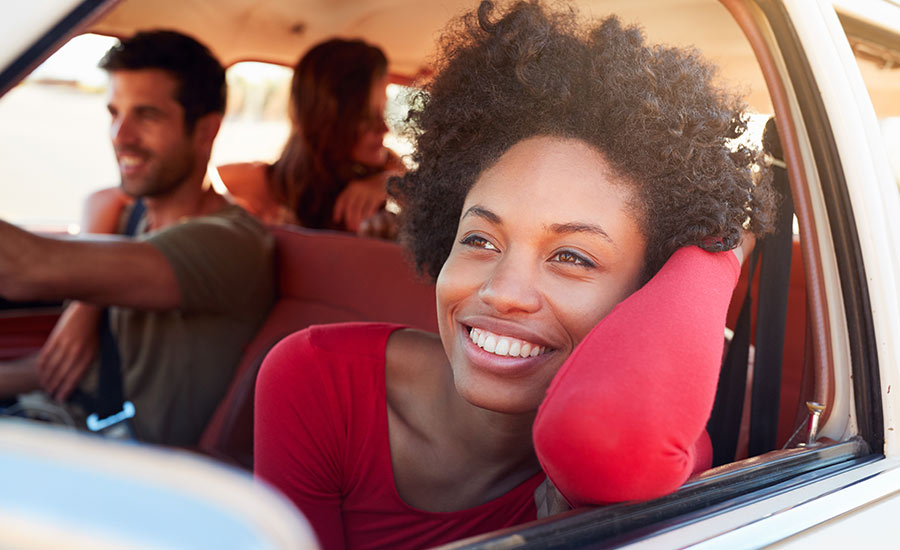 Arizona's Driver's License
To apply for a driver's license in Arizona, you must be a US citizen or a legal resident with a social security number.
At 15 ½ years old, you can apply for an instructional learner's permit, also known as a G permit, after you complete a vision test and a written test.
Once you turn 16, have had 30 hours of driving practice and have held a permit for a minimum of six months, you are eligible for a graduated driver's license.
When you turn 18, you can apply for a Class D driver's license, also known as an operator license. This allows you to drive any vehicle that does not require a motorcycle or commercial license.
Driving Without Insurance In Arizona
It is illegal to drive without car insurance in Arizona. You are required to have proof of auto insurance in your car at all times.
If you are unable to show evidence of your financial responsibility, you may face substantial fines as well as suspension of your driver's license, registration and license plates.
Registering A Car In Arizona
To register a car in Arizona, you need to prove that you have evidence of financial responsibility. This can be an auto insurance policy, a bond, or a certificate of deposit or cash equaling $65,000.
Arizona Teen Driving Laws
After obtaining a G license, you are not permitted to drive between 12 a.m. and 5 a.m. during your first six months, unless:
You are accompanied by a parent or a legal guardian who has a driver's license and travels in the front seat
You are driving to/from a religious activity or a sanctioned school
You are driving to/from a family emergency
You are driving to/from your employment place
If you are under 18 and have a G license, you cannot transport more than one passenger under the age of 18 on a public highway unless:
You are accompanied by a parent or a legal guardian who has a driver's license and travels in the front seat
The passengers are your siblings
Arizona Seat Belt Laws
Arizona is a secondary seat belt law state. This means that police officers cannot stop you because you are not wearing a seat belt, but officers can stop you for another violation, then cite you for not wearing a belt.
Did you know that every hour someone in America dies because they are not wearing a seat belt? In addition to following Arizona's seat belt laws which require every driver and passenger to wear a seat belt, buckling up is vital to your safety on the road.
If your passengers are under the age of five, Arizona law requires you to use a child safety seat. For children 5-7 years old who are under 4'9," you are required to transport them in a booster seat.
Seat belt fines start at $10 per person. If you are transporting children under the age of 5 without a seat belt, an additional fine of $50 will apply.
Remember: it's not just about getting pulled over. If you are not wearing a seat belt and you are involved in an accident, your medical bills could skyrocket by 50%, due to more serious and even life-threatening injuries.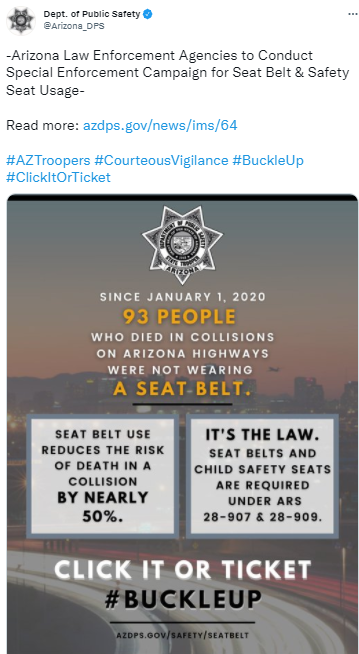 Arizona Distracted Driving
Arizona has several distracted driving laws in place to help improve safety conditions on the road. You are allowed to use a cell phone or another electronic device to talk or text, but only in hands-free mode.
You are permitted to use a single swipe to make or accept a call or use your device for emergency calls and GPS navigation.
If you break these laws and are caught holding your cell phone, tablet or other electronic device while driving, you will be fined between $75 and $250, depending on the frequency of the violation.
Car Insurance Laws For New Residents In Arizona
If you are moving to Arizona and have a valid driver's license, you must immediately apply for an Arizona driver's license and register your car in Arizona.
Written and driving tests may be waived, but you may be asked to take a vision exam.
Keep in mind that your out-of-state coverage may not be valid in Arizona, so you may need to change your car insurance. Consult our Fred Loya agents for an affordable and customized car insurance policy!
*All information was gathered from official state websites and is accurate as of November 1, 2021.
Arizona Car Insurance
Common Questions
If you still have additional questions, please contact an agent.
CALL 1-800-444-4040
No, Arizona is not a no-fault state. This means that the driver who is at fault must pay for bodily injury and damages for both parties.
You can choose optional "full glass" or "safety equipment" coverage to cover windshield repairs without having to pay a deductible. You also have the right to choose which company will conduct your windshield repair.
Anyone who is driving your car with your permission (as long as the situation is not excluded in your policy) will be covered under your policy. Check your policy to see if there are any situations that are not covered.
If you cancel your car insurance policy in Arizona, your insurance company will notify the MVD. The same is the case for new policies and non-renewals. It is illegal to drive without insurance in Arizona. If you cancel your insurance policy, you must sign a new policy in order to drive.
According to Mexican law you must purchase a separate policy from a Mexican insurance company if you drive in Mexico. Non-compliance will result in heavy fines or jail time if you are involved in a car accident in Mexico.