Illinois

Auto Insurance

Curious about Illinois auto insurance?

Let us guide you through the winding roads, from minimum insurance requirements and additional coverage options to driving laws and regulations, FAQ's and discounts at Fred Loya Insurance!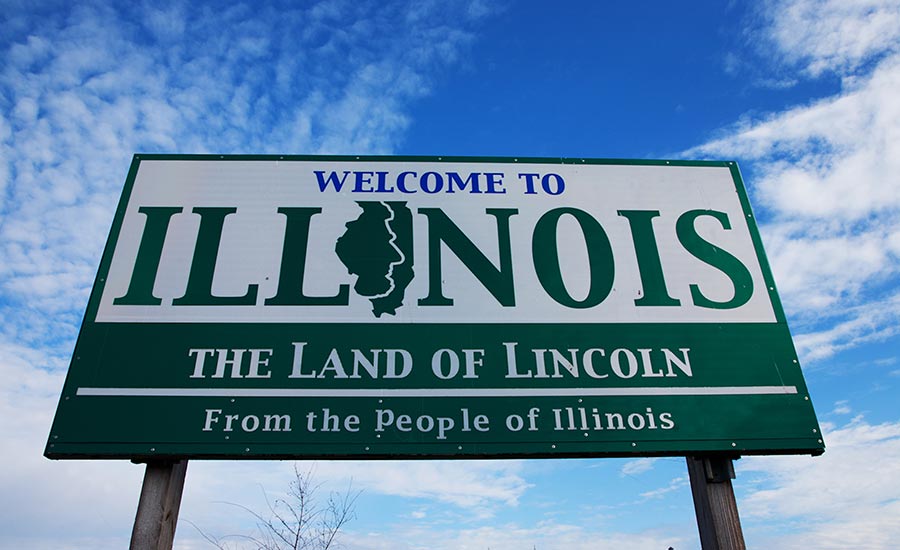 How Much

Does Illinois Car Insurance Cost?

Illinois auto insurance ranks among the most affordable in the nation. The average insurance rate is $1,120 per year for full coverage, which makes it 21.6% cheaper than the national average in the United States.

What factors can affect your car insurance rate in Illinois? Location, age, marital status, your driving record, credit score, the type of vehicle you drive and more.
Affordable Car Insurance Quotes in Illinois
Looking for cheap car insurance in Illinois? At Fred Loya Insurance, we offer customized auto insurance policies to match your exact needs. We combine affordable prices with generous discounts and numerous benefits for our customers.
Opt for Illinois minimum insurance requirements or add additional coverage to protect yourself and your loved ones while driving.
At Fred Loya Insurance, you can benefit from flexible payment options, immediate coverage without a credit check, online payment options, mobile alerts and more.
Get Cheaper Car Insurance In Illinois: Fred Loya Insurance
Discounts
Multi-car Discount

Do you need to insure multiple vehicles? Insure more than one car with us and benefit from our Multi-car Discount.

Homeowner Discount

If you own a home, you may be eligible for reduced insurance rates with our Homeowner Discount!

Prior Insurance Discount

Have you had auto insurance for the past six months or more? Ask our agents if you can save with our Prior Insurance Discount.

Claim-Free Discount

Are you proud of your claim-free driving record? To celebrate your responsible behavior as a driver, save with our Claim-Free Discount.

EFT Discount

Setting up automatic monthly payments can help ensure you're always on time! Check if you qualify for our EFT Discount.

Vehicle Alarm Discount

If your car has an anti-theft alarm system recognized by the state, you may be eligible for our Vehicle Alarm Discount.

New Car Discount

Do you have a new vehicle? Ask our agents if you can take advantage of better insurance rates with our New Car Discount.
Illinois Minimum Car Insurance
Requirements
| Coverage | Requirements |
| --- | --- |
| Bodily Injury Liability | Bodily Injury Liability covers bodily injury or death expenses if you cause an accident. The minimum requirements are $25,000 per person and $50,000 per accident. |
| Property Damage Liability | Property Damage Liability covers expenses related to vehicle and structure damage if you are found at fault for an accident. The minimum requirement is $20,000. |
| Uninsured Motorist Coverage | Uninsured Motorist Coverage pays for expenses related to an accident caused by an uninsured driver or a hit-and-run driver. The minimum requirements are $25,000 per person and $50,000 per accident. |
| Underinsured Motorist Coverage | Underinsured Motorist Coverage pays for additional expenses when an underinsured driver causes an accident, and the driver's limits are too low to cover all expenses. |
Fred Loya Locations in
Illinois
Illinois Car Insurance
Laws And Regulations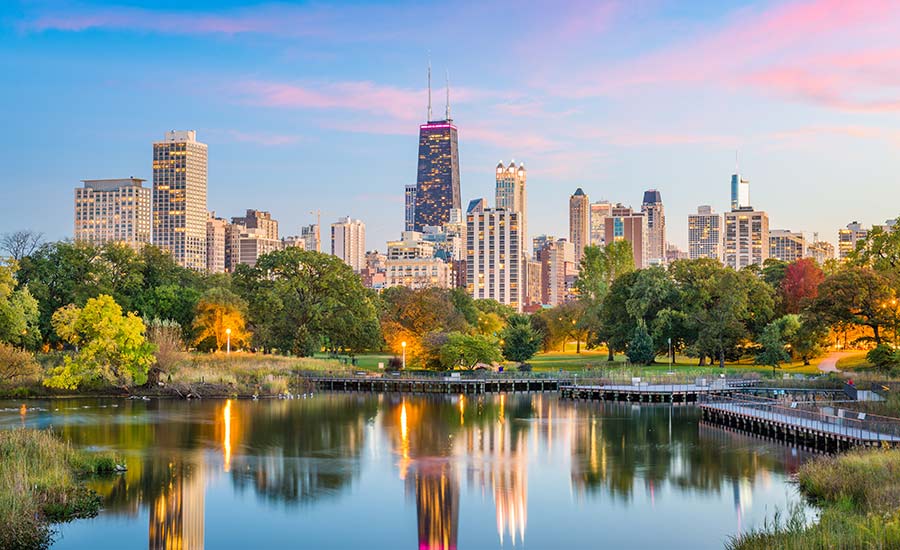 Illinois Driver's License Process
Instruction Permit
At 15 you can apply for an instruction permit. You should:
Get parental consent
Complete a written test
Take a vision test
Register for a driver education course
At 15 ½ years old, you can apply for an instruction permit if you sign up to take the course when you turn 16.
At 17 years and three months old, you can apply for your instruction permit without taking a driver education course.
Graduated License
At the age of 16, you can apply for your graduated license, if you:
Hold an instruction permit for minimum nine months, with no traffic tickets
Have completed driver education courses
Are enrolled in school
Have passed a minimum of eight classes in the last two semesters
Have no pending offenses
Have completed 50 hours of driving, including 10 hours of night driving
Have no DUI or penalties for driving without a license
If you are a new Illinois resident and you hold a valid out-of-state driver's license, it will be valid for 90 days or until its expiration, whichever comes first. After that period, you need to apply for an Illinois license.
To apply for an Illinois driver's license:
Visit a Secretary of State office
Submit your out-of-state driver's license
Take a vision test
Complete a written test
If your driving record is not clean, you may be requested to pass a driving test.
Driving Without Insurance In Illinois
Illinois has very strict laws regarding auto insurance, which is mandatory for every driver.
A state electronic system, known as the Illinois Insurance Verification System, automatically checks the insurance status of car owners at random intervals a minimum of two times per year. The goal is to ensure that all drivers follow the state insurance laws.
From July 1 to September 1, 2021, the system detected 2,700 drivers who did not have car insurance.
The penalties for driving without insurance in Illinois are substantial.
For your first offense, you will have to pay a fine ranging between $500 and $1,000 and purchase an SR-22 for a minimum of three years.
If you are caught without insurance for a second or subsequent time, you can face higher fines and a license suspension. If you have your license suspended, you will need to pay a reinstatement fee of $100.
The penalty for driving without insurance can also extend to license plate suspension. If you fail to provide insurance during the period when your license plate is suspended, you will be charged with an additional $1,000 on top of the standard ticket fine.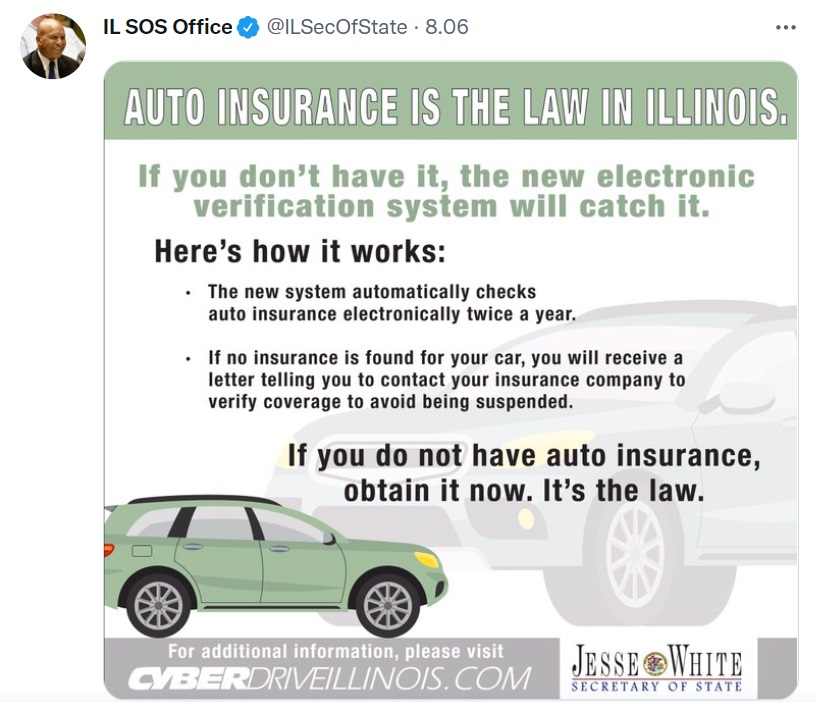 Illinois Teen Driving Laws
If you have an instruction permit, you are permitted to drive, accompanied by a parent, guardian or driver's education instructor who is 21+ and has a minimum of 12 months of licensed driving experience.
If you are between 16 and 17 years old, you are permitted to drive under the supervision of any adult over 21 years old who has a minimum of one year of driving experience.
If you have a graduated license and are under 18, you are not permitted to drive within the following time range:
Sunday — Thursday: Between 10 p.m. and 6 a.m.
Friday — Saturday: Between 11 p.m. and 6 a.m.
Exceptions extend to driving to/from school, work, emergency situations or religious activities.
During your first year with a graduated license, you can transport only one passenger under 20 years old who is not your family member.
You must have a seat belt for every passenger in your car. If you get caught with too many passengers, your license will be suspended for six months.
If you are under 19 years old, it is against the law to use a cell phone while driving.
Illinois Seat Belt Laws
Illinois seat belts laws aim to minimize the number of accidents and fatalities on the road.
All Illinois drivers and passengers must wear seat belts or face a fine of $25. The only exception extends to vehicles older than 1956.
The Illinois Child Passenger Protection Act requires children under 8 years old to be transported in a booster seat. Fines include $75 for your first offense and $200 for a subsequent violation.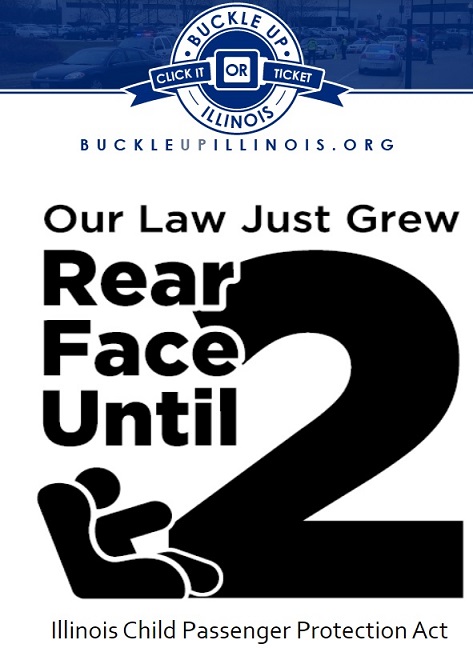 Illinois Distracted Driving Laws
Illinois police, transportation, safety and driver education organizations work together to minimize the risks of distracted driving and save lives.
While driving in Illinois, you are forbidden to use handheld electronic devices, including cell phones. Both texts and calls are considered a serious violation and may result in substantial fines: $75 for a first offense, $100 for a second offense and $125 for third-time offense, in addition to a license suspension.
If you are found at fault for an accident caused by texting, and the result is serious bodily damage, permanent disability or disfigurement of another person, the fines can extend to a minimum of $1,000 and one year of license suspension, in addition to a Class A Misdemeanor charge.
You are allowed to conduct handheld communication, both to text and make a phone call, only under several conditions:
Placing phone calls using a hands-free device or phone mount
Calling 911 in case of an emergency
Making a call or texting while stopped on a shoulder
Making a call or texting while in neutral or park during a traffic jam
*All information was gathered from official state websites and is accurate as of November 1, 2021.
Illinois Car Insurance
Common Questions
If you still have additional questions, please contact an agent.
CALL 1-800-444-4040
No, Illinois is an at-fault state. If you are found guilty of an accident, you will have to pay for the bodily injuries and damages you caused.
Illinois is a comparative negligence state, which means that the fault for an incident is distributed to each driver as needed.
In addition, Illinois is a state that accepts modified comparative fault. An important factor when calculating how much money you can get in damages is your percentage of liability.
To make it easier, here is an example: If you're 50% at fault in an accident but have determined that the cost of the damages to you is $100,000, you will only receive $50,000 if approved, and you will be responsible for the other half of the damages. The less fault you bear, the more money you would get at the time of disbursement.
Yes, the state of Illinois requires that all drivers have Uninsured/Underinsured Motorist Coverage. It covers expenses related to bodily injury and keeps you covered if you are hurt in an accident caused by a driver with insufficient auto insurance or no insurance at all.
No, Uninsured Motorist Property Damage Coverage is not mandatory in Illinois. However, to keep your property protected from uninsured drivers, you may want to add this coverage to your policy.