Oklahoma

Car Insurance

Did you know that Oklahoma's rate of uninsured drivers is among the highest in the nation?

At Fred Loya Insurance, we offer customized quotes at affordable rates to make sure you meet the state's requirements for auto insurance. Find coverage, discount options and quotes here!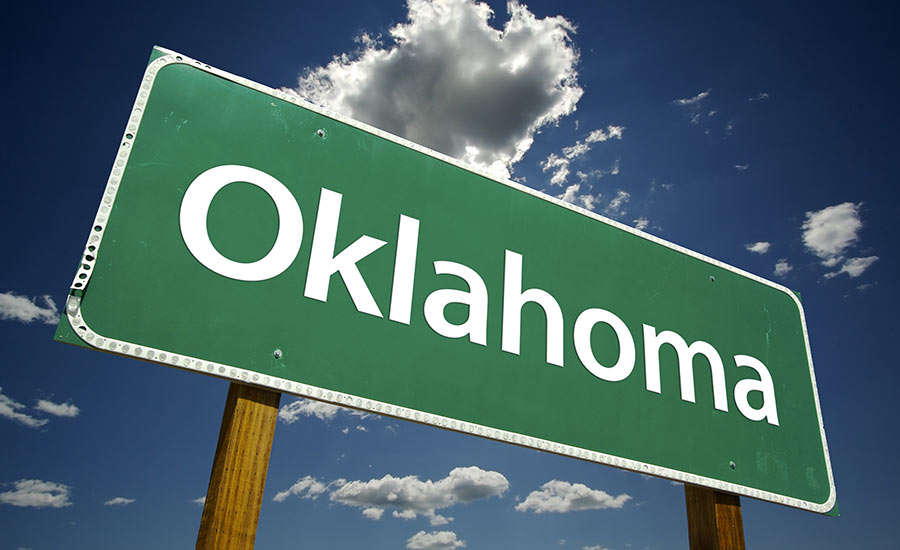 How Much

Does Car Insurance In Oklahoma Cost?

In Oklahoma, the average cost of car insurance is $1,869 per year for full coverage. At Fred Loya Insurance, our agents can help you find cheap car insurance in Oklahoma through our customized policies and numerous discounts.
Why Choose Fred Loya Insurance For Your Auto Insurance In Oklahoma?
At Fred Loya Insurance, we value our customers and strive to offer the most affordable policies with the best coverage.
By joining our family, you can benefit from flexible payment options, customized quotes and immediate coverage without a credit check.
As our loyal client, you can advantage of our online payment options, mobile alerts and even a complimentary rental vehicle while your car is in the shop after an accident.
Our agents work with you based on your insurance needs and budget to formulate a policy that works best for you and your family, without any hidden fees or costs.
Ger Cheaper Car Insurance In Oklahoma: Fred Loya Insurance
Discounts
Multi-car Discount

Do you need auto insurance for more than one vehicle? Add multiple cars to your policy and save with our Multi-car Discount.

Homeowner Discount

Are you a home owner? Ask our agents if you can save with our Homeowner Discount!

Prior Insurance Discount

Have you had auto insurance for six months or more? If so, you may be eligible for reduced insurance rates with our Prior Insurance Discount.

EFT Discount

Are you interested in signing up for automatic monthly payments If so, you can save with our Electronic Funds Transfer Discount!
Oklahoma Minimum Car Insurance
Requirements
| Coverage | Requirements |
| --- | --- |
| Bodily Injury Liability | Bodily Injury Liability covers bodily injury or death expenses if you are found at fault in an accident. The minimum requirements are $25,000 per person and $50,000 per accident. |
| Property Damage Liability | Property Damage Liability covers damage expenses if you are found at fault in an accident. The minimum requirement is $25,000. |
| Uninsured Motorist Coverage (Optional) | Covers injury and damage expenses if you are hurt by an uninsured driver who is at fault for the accident. |
| Collision Coverage (Optional) | Covers vehicle repair costs after an incident with another vehicle or object. |
| Comprehensive Coverage (Optional) | Covers vehicle repair costs resulting from a non-accident event such as fire, flood, vandalism or theft. |
| Medical Coverage (Optional) | Covers medical costs if you or your passengers are injured in an accident, regardless of who was at fault. This also extends to injuries you may sustain as a pedestrian. |
| Roadside Assistance (Optional) | Covers expenses related to road incident services such as flat tire repair, fuel delivery or towing services. |
Fred Loya Locations in
Oklahoma
Oklahoma Car Insurance
Laws And Regulations
Oklahoma's Driver's License Process
In Oklahoma, you can apply for a learner's permit at 15 ½ years old, if you pass a written exam and a vision exam, and you are enrolled in or have completed driver education courses. If you are at least 16, you can apply or a learner's permit without driver education courses, if you pass a written exam and a vision exam.
When you've held your learner's permit for at least six months, you can apply for an intermediate license. You must have:
A minimum of 50 hours of driving with a licensed driver who is 21+, including 10 hours or night driving
No traffic convictions on your driving record
Passed your driving test
When you've had your intermediate license for at least six months, you can apply for an unrestricted license. You must have no traffic violations on your record or you must be at least 18 years old and have passed all driving and vision tests required.
If you have a valid driver's license from another state, you can transfer it to Oklahoma by taking a vision test.
Driving Without Insurance In Oklahoma
Driving without insurance in Oklahoma is against the law. If you are pulled over and are unable to provide evidence of insurance, you will face a $250 fine, a license suspension and/or 30 days in prison.
Oklahoma Teen Driving Laws
If you have a learner's permit, you are only permitted to drive between 5 a.m. and 10 p.m. You should always be accompanied by a licensed adult who is 21 or over.
If you have an intermediate license, you are permitted to transport:
One passenger
OR Only people who live in your home
OR Any passenger if you are with a licensed driver who is at least 21 years old
You are not permitted to drive between 10 p.m. and 5 a.m. unless you:
Are with a licensed driver who is at least 21 years old
Are going to/from school/work/church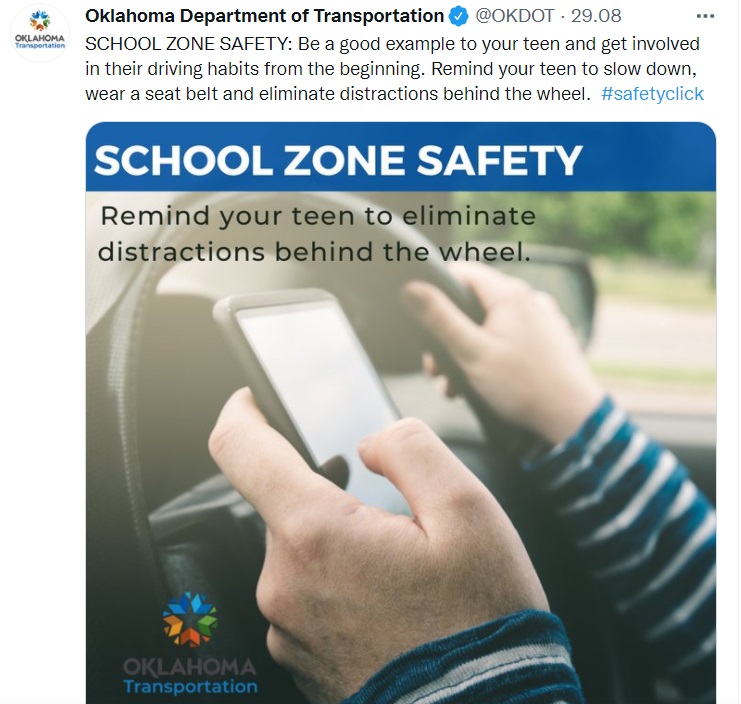 Oklahoma Seat Belt Laws
Oklahoma requires drivers and front seat passenger to wear seat belts at all times. It is a primary enforcement state, which means you can be pulled over and fined solely for not wearing your seat belt.
If you transport children who are under eight years old, make sure they are secured by the proper safety seat, including:
A rear-facing car seat for children who are under two years old
A car seat for children who are under four years old
A car seat or child booster seat for children between four and eight years old, unless they are taller than 4'9″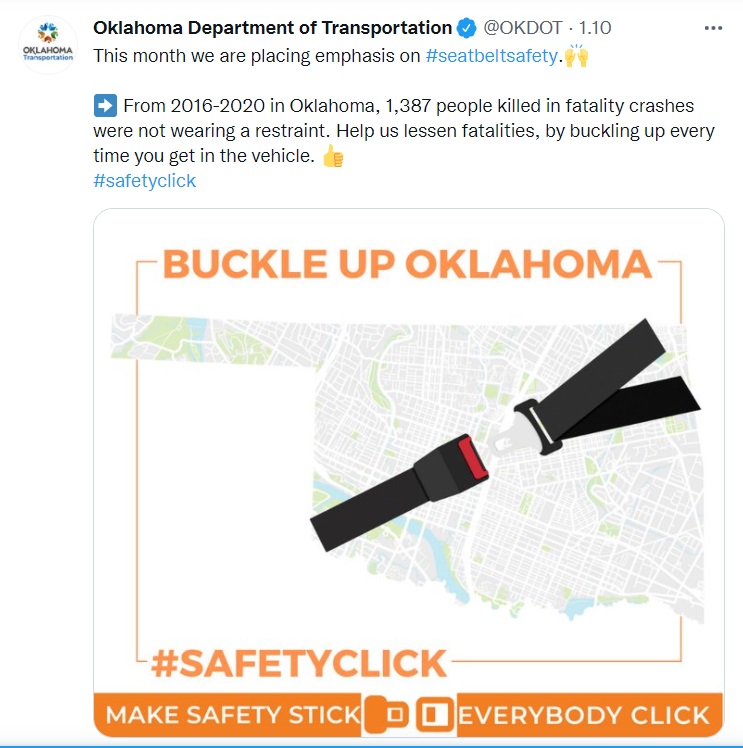 Oklahoma Distracted Driving
Oklahoma's distracted driving laws include cell phone regulations to help drivers keep their attention on the road.
Texting while driving is against the law in Oklahoma.
The exceptions to the texting ban include emergency communication to a hospital or health clinic, ambulance, firefighter or law enforcement.
The only electronic communication devices that can be used while driving include:
Vehicle-integrated devices
Vehicle-affixed voice-operated GPS and navigation systems
Hands-free devices that allow voice communication
The fine for texting and driving in Oklahoma is $100.
In addition, commercial and public transit drivers are not permitted to use a cellphone while driving.
Car Insurance Laws For New Residents In Oklahoma
Moving to Oklahoma? You have 30 days to transfer your title and registration. To apply, you must first purchase Oklahoma car insurance.
*All information was gathered from official state websites and is accurate as of November 1, 2021.
Okalhoma Car Insurance
Common Questions
If you still have additional questions, please contact an agent.
CALL 1-800-444-4040
Minimum liability coverage is mandatory in the state of Oklahoma. If you do not maintain coverage, you may face higher premiums in the future due to a lapse in coverage, even if you do not regularly drive your vehicle
If you cannot provide evidence of car insurance in Oklahoma, you will face a fine of up to $250, 30 days in jail and a one-year license and registration suspension.
If you cannot give evidence that you have the minimum liability insurance required in Oklahoma, you may be fined $250, have your license suspended and/or be sent to prison for 30 days.
No. Uninsured Motorist Coverage is not mandatory in Oklahoma. However, you may consider adding it to your policy it to stay protected in case you are injured by hit-and-run driver or a driver without auto insurance.
No, Oklahoma is an at-fault state. If you are responsible for an accident, you will pay for any property damage or bodily injuries you caused.
Yes, Oklahoma is a comparative negligence state. This means that each driver's negligence is measured based on their contribution to the accident.