Do you need SR-22 insurance, but you're not sure how it works?
An SR-22 is often needed after serious or repeat driving offenses, but conditions, cost and other factors can vary by state.
If you have questions, you've come to the right place. We'll cover everything you need to know about SR-22 insurance, from cost to who needs it, and how to get it.
What Is An SR-22 Insurance?
Although SR-22 is commonly referred to as a type of insurance, it is not actually insurance in the traditional sense of the word.
SR-22 stands for "safety responsibility." It is a certificate that shows that you have the liability coverage needed to meet the minimum requirements in the state where you are living and driving.
An SR-22 is typically required by the court or the state after you have been convicted of serious violations such as a DUI, but there are a few additional scenarios in which you may need it as well.
Who Needs An SR-22?
Most states require an SR-22 following a serious violation, with the exceptions of New Mexico, Oklahoma, Delaware, Kentucky, Minnesota, New York, North Carolina and Pennsylvania.
In the states that do require an SR-22, the conditions in which you need the certificate can vary, from a suspended license to driving without insurance, being convicted of a DUI and more.
Let's look at some examples from different states:
In Texas, you are required to file for an SR-22 when:
Your license is suspended after an accident
You are caught driving without liability insurance two or more times
A civil judgement is filed against you
In California, you are required for an SR-22 after being convicted of reckless driving, a DUI or other serious violations.
In Oklahoma, you are required to file for an SR-22 if your driving privileges are suspended due to uninsured driving, traffic violations or DUI/DWI convictions.
So, what are the most common situations that require an SR-22?
You are caught driving without a license
You are caught driving without insurance
Your license is suspended due to moving violations or excessive accidents
You are convicted of driving under the influence (DUI) or driving while intoxicated (DWI)
You are convicted of repeat driving offences in a short period of time
You have outstanding child support payments ordered by the court
You are applying for a probationary permit or a hardship driver's license
If you live and/or drive in one state, but are licensed in another, keep in mind that you may need to have an SR-22 on file in the state you're licensed in.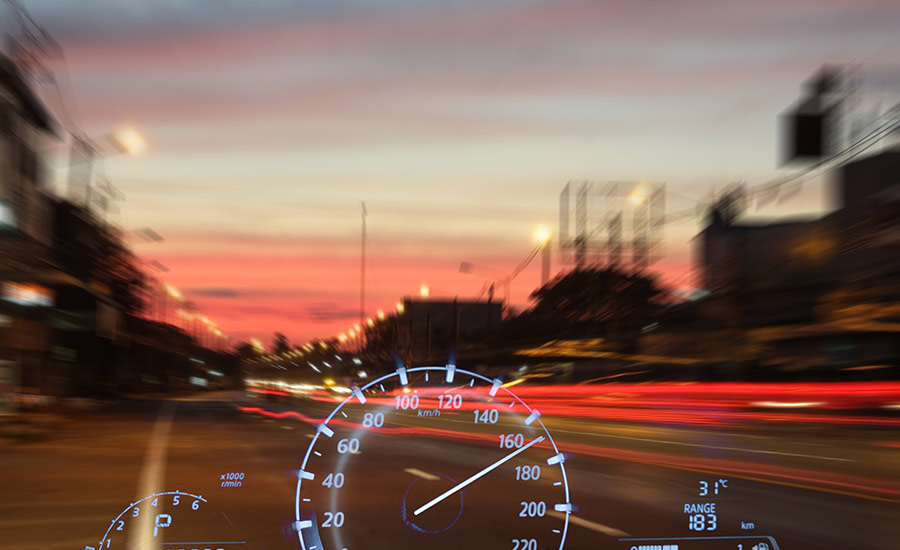 How Do I Get An SR-22?
In order to get an SR-22, you need to have a valid auto insurance policy covering your state's minimum liability requirements.
You can purchase an SR-22 through most insurance companies. Keep in mind that by filing for an SR-22 certificate, you may be considered a risky driver.
In the best-case scenario, your policy premium will increase. In the worst-case scenario, your auto insurance company will drop you as a customer, and you will need to find a new provider for your policy.
How Much Does An SR-22 Cost?
The filing fee for an SR-22 typically ranges between $15 and $50, depending on the state and the severity of the violation.
In most cases, this is a one-time fee, so even if you need to keep your SR-22 for several years, you will not need to pay for renewal. However, there are exceptions.
For example, if your insurance lapses, you will need to pay the fee again when you purchase a new car insurance policy.
In most cases, an SR-22 will increase cost of your car insurance. See the chart below for average insurance premiums before and after SR-22 in the 12 states where Fred Loya Insurance operates.
An SR-22 has the most significant impact on car insurance rates in California, with an average increase of 187%. In Oklahoma, an SR-22 may cause your rate to increase by about 50% with most providers.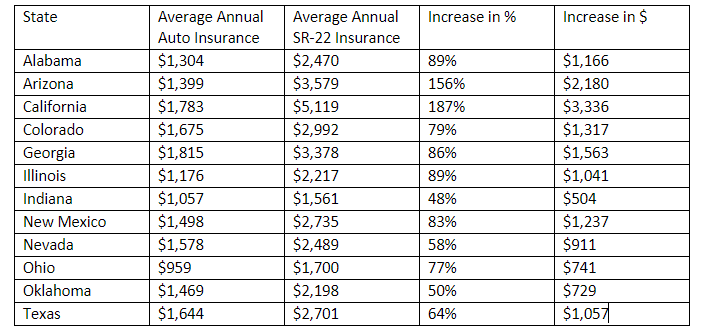 How Long Is My SR-22 Valid?
The validity of your SR-22 may vary by state, but in most cases, you'll need to keep your SR-22 for three years to show continuous car insurance coverage.
Once the three years is up (or the specific time period your state requires), your SR-22 is typically lifted.
During this time frame, you must have a clean driving record with no serious moving violations.
If you allow your car insurance coverage to lapse, your insurance company will inform the DMV and they will suspend your license — something we highly recommend you avoid, as it leads to plenty of subsequent issues.
Things To Keep In Mind About An SR-22
If this is your first time being convicted of a serious driving violation, it is possible you have never heard of SR-22 insurance. Now that you're here, all of this information might seem a little scary and overwhelming — especially when you're in an unfortunate situation.
Our goal is to give you the knowledge you need to handle the situation promptly and correctly, to avoid additional trouble.
Keep in mind that in some situations, you may be required to file for an SR-22 even if you don't have a car. These situations include conviction of a serious moving violation like a DUI, reckless driving, or injuring a person while driving someone else's car or a rental vehicle.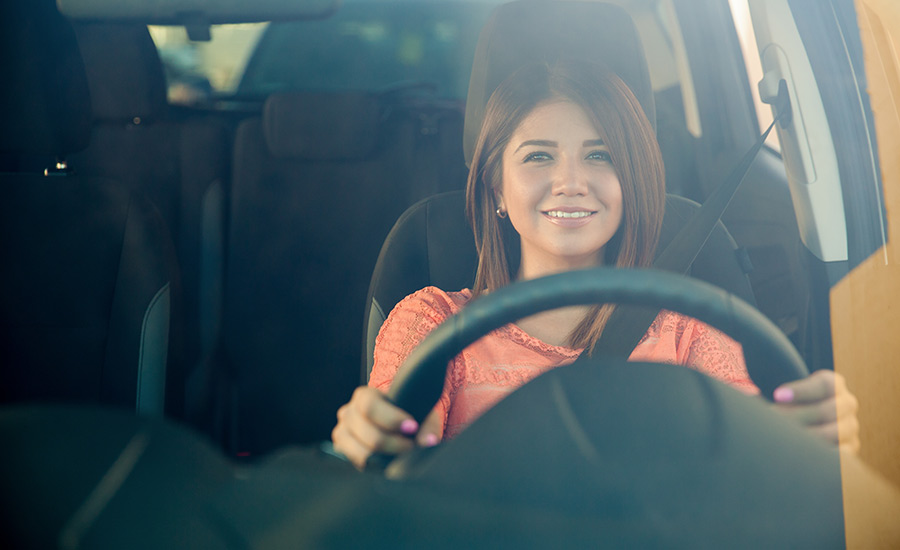 Filing For An SR-22 With Fred Loya Insurance
Fred Loya Insurance keeps you covered in all situations. Whether you need an SR-22 certificate or a customized auto insurance policy, our agents will look at your specific requirements and budget and craft the exact insurance policy you need.
Ask our agents about the minimum auto insurance requirements in your state, along with additional coverage options, discounts and benefits. We'll help keep you protected along every mile of the road.
How Do I Get My SR-22 Certificate Removed?
In most cases, your SR-22 certificate will not be automatically removed from your insurance policy after the mandated period ends. When you no longer need an SR-22, you should contact your insurance company to ask them to remove it from your policy.
Once your SR-22 certificate is removed, you may be eligible for a decrease in your premium. However, this depends on your insurance company and exact situation.
If your premium does not go down after your SR-22 is removed, you may want to consider switching your car insurance to a new company.
How To Get Cheap Coverage After Filing For An SR-22
Insurance rates typically stay high for a period of three to five years after you are found at fault for an accident or comit a serious traffic violation.
After this period expires and you no longer need an SR-22, you can shop around for lower insurance premiums with other car insurance companies.
Our Fred Loya Insurance offices are conveniently located in supermarkets and shopping malls in the 12 states where we operate:
Our agents can craft a customized policy for you based on your needs and budget. Along with cheaper rates, you can benefit from immediate coverage without a credit check, online payment options, mobile alerts, flexible payment options and more with Fred Loya Insurance.
Wrapping Up On SR-22 Insurance
Driving without auto insurance can put you at risk of serious penalties and lead to significant financial losses if you are involved in an accident
In some states, an SR-22 is required to show that you have state minimum coverage if you are caught driving without insurance or are convicted of a DUI, DWI or other serious offenses.
In most cases, your SR-22 is valid for three years, during which time you must have continuous coverage. Check the SR-22 laws in your state and contact your insurance company to get expert advice on next steps.